Automated unwinding equipment, roll material stamping, heavy material rack
The material used in the stamping manufacturing process is usually a roll in the form of a roll. It needs to be discharged through a professional material rack, and then unrolled and exported to a leveling machine or a feeder at a predetermined position to complete the automatic unwinding process.
Heavy-duty material rack is the most commonly used unwinding equipment. In the process of unwinding, if the thickness and hardness of the coil itself is not large, the derivation process can easily form a smooth state due to no impedance.
If the coil itself has a large thickness and a high hardness of the metal coil, it is necessary to install a pneumatic pressing arm on the heavy material frame to prevent the unwinding of the coil, and smooth unwinding can also be achieved.
However, in the case of a metal wire having a large thickness and a high hardness, the material frame cannot completely press the material even if a press arm is added, and in the process of discharging, the wire material is largely bulked due to no tension, and at the same time The phenomenon of shrinkage deformation of the width of the coil material seriously affects the subsequent leveling, feeding process and the precision and stability of the entire stamping production.
In order to solve the problem of unwinding of coiled material, HongEr Machine has specially produced a heavy-duty material rack equipped with a guiding device, which adopts a roller-type guide tensioning sensing device when the guiding state of the wire take-up end is too slow.
It can automatically sense and stop the driving roller or slow down the rotation speed to return the wire feeding adjustment to the normal state in real time, so as to effectively prevent the wire material from tangling.
When the leading end of the wire coil is too tight and fast, the rotation speed of the driving roller can be automatically sensed to release the pressing state of the wire coil, thereby effectively preventing the wire coil from being shrunk due to too tight pulling. The problem of deformation occurs.
In order to control the guiding state of the coil material to a very small error value range, the processing precision can be greatly improved to meet the requirements of high-precision products, and the problem of large-diameter, high-hardness wire discharging and unwinding is fundamentally solved. At the same time, it effectively improves the efficiency and quality of the unwinding.
Products: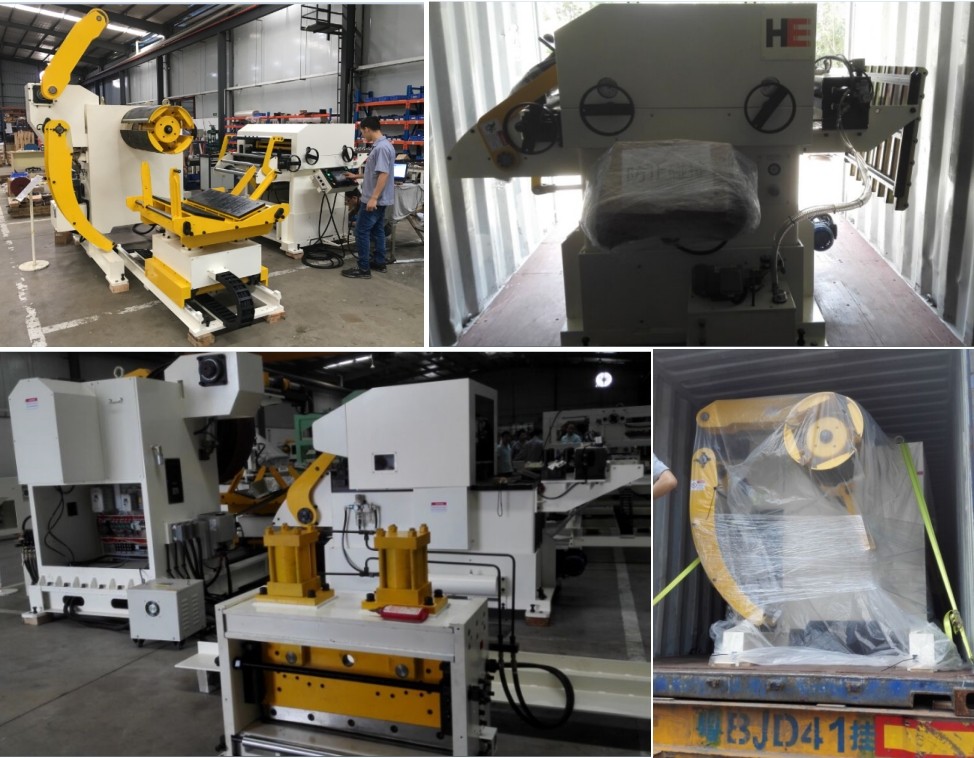 Specification:
 
Model
GLK2-400
GLK2-500
GLK2-600
GLK2-800
Coil Width(mm)
50-400
50-500
50-600
50-800
Strip Thickness(mm)
0.3~3.2
0.3-3.2
0.3-3.2
0.3-3.2
Max.Coil Weight(kg)
3000
3000
3000
5000
5000
7000
Max.Coil O.D.(mm)
1200
1200
1200
 
Coil I.D.(mm)
8
8
508
508
Feed Length(mm)
~500*
~500*
~500*
~500*
Max. Line Speed(m/min)
16-24
16-24
16-24
16-24
Work Roll Number(pieces)
upper 6
lower 5
upper 6
lower 5
upper 6
lower 5
upper 6
lower 5
Feed Roll Number(set)
1
1
1
1
Main Motor(kw)
AC2.9
AC2.9
AC4.4
AC4.4
Mandrel Expansion
hydraulic
hydraulic
hydraulic
hydraulic
Reel Motor(kw)
1.5
1.5
1.5
2.2
2.2
3.7
Power(V)
3 Phase 220V/380V/50HZ
Operating Air(Mpa)
0.49
0.49
0.49
0.49

Straigtening performance:
 
Coil Thicknees (mm)
Coil Width (mm)
0.3
400
500
600
800
0.4
0.6
0.8
1.0
1.2
1.4
1.6
470
470
1.8
400
400
2.0
360
360
2.3
300
300
300
300
2.5
230
230
230
230
2.8
150
150
150
150
3.2
110
110
110
110

*1:(Pneumatic):Option in case of pneumatic mandrel expansion is provided



1. Pre-Sales Service:We have professional designers to meet the different requirement of our customers.

2. After-Sales service:We have an efficient team to meet 24*7 all day service.

3. Full-Service:Actively cooperate with customers to deal with problems in equipment using.

4. Engineers can provide service machinery overseas.