Compact Servo Feeder 3 in 1 Machine GLK2 for metal stamping line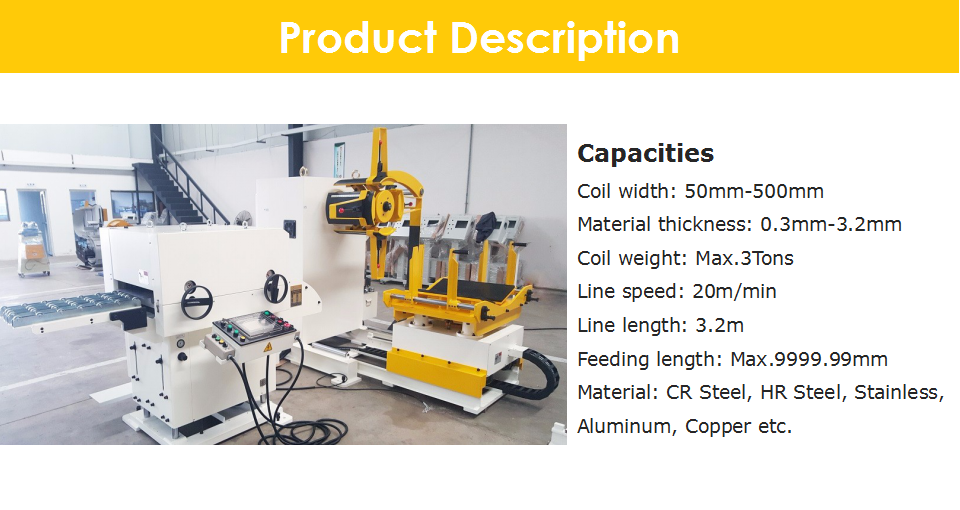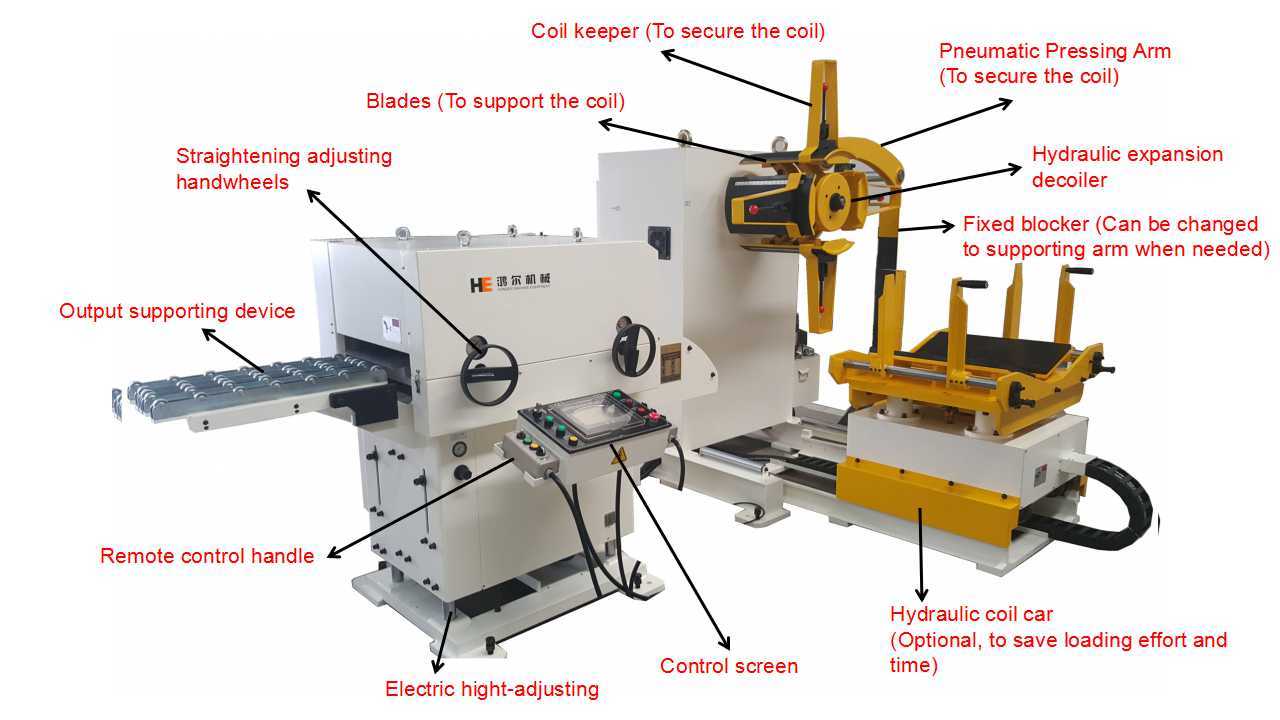 3 in 1 decoiler straightener feeder is especially suitable for high strength steel, enhancing the processing precision. Machine has adopted electric straightening precision adjustment which is easier to adjust than by manual. Electric and electronic parts are adopted European standard products, better in safety, stability, and lifetime.
Name

Uncoiler Straightener and Servo Feeder Machine 3 in 1

Model

GLK2-400

GLK2-600

GLK2-800

GLK2-1000

Material strength

b≤392Mpa   σs≤245MPa

Material  width

50-400mm

50-600mm

50-800mm

50-1000mm

Applicable material thickness

0.3-3.2mm

Feeding length

0-9999.99mm

Inside coil diameter

Φ508mm

Max.coil outside diameter

Φ1200mm

Max.coil weight

3000KG

5000KG

5000KG

7000KG

Max. feeding speed

22m/min

Expansion style

Hydraulic expansion

Pressing way

With pressing arm

Straightener roller

11 Pieces , top6/bottom 7,Φ48mm (GLK2-400, GLK2-600)


7 Pieces , top4/bottom 3,Φ68mm (GLK2-800, GLK2-1000)

Feeding roller

2 Pieces , Φ68mm (GLK2-400, GLK2-600)


2 Pieces , Φ88mm (GLK2-800, GLK2-1000)


Power

AC380V±10%,50HZ ±2% , (can be changed according to your requirement)

Pneumatic pressure

0.5Mpa

Running direction

 From left to right
Feature and advantage: 
1. Saves factory space. 3 machines together in 1.
2. High precision: +/-0.05mm
3. Suitable material thickness: 0.5-3.2mm.
4. Suitable for all kinds of metal coil automatic straightening and feeding, easy to operate.
5. Suitable for metal parts, electron, electrical appliance, toy and auto parts continuous
pressing production, straightening and feeding.
6. Japan servo motor, PLC and other electrical parts, with little malfunction and long using
time. High quality, lowest maintenance.
7. Can feed different length at the time, easy operation, safe and high stability.
8. We can customize the machine.
9. Fast speed: 20m/min.
10. Coil car, pressing arm, conveyer belt, shearing machine, oiling machine etc. for
choosing.
Main Components of 3 in 1 Decoiler Straightener and Feeder

1.Uncoiler
· Function instruction: uncoiling is to fix coil on the spindle of uncoiler, a supporting table to support coil Inner diameter, while working automatically, through material loop controlling instruction to make spindle uncoiling and loosing coil intermittently, equipped with coil diameter detection, to control uncoiling speed, ensure uncoiling line speed is uniform velocity, improved material loosing problem. 
· Components included: expansion and contraction part, press arm part, limit wheel part, material loop controlling part.
· Expansion method: hydraulic expansion.  
· Spindle expansion range: Φ450-Φ530mm. 
· Spindle driven motor: AC motor, with an inverter. 
· Spindle driven method: variable frequency gear motor. 
· Spindle brake: disc brake. 
· Spindle uncoiling direction: down uncoiling. 
· Press material wheel specification: PU rubber tires  
· Press material wheel driven method: AC motor, with inverter 
· Function of press arm: from cut off bundling belt which is used for fixing coil until the coil head is pressed tightly by straightener roller, to prevent coil rebounding; while whole feeding line working, let the coil uncoiling smoothly, to prevent coil dispersing and the press arm is motorized, with tracking and follow up function ie. Rotating speed of press arm roller is absolutely the same with uncoiling line speed, then tensioning metal strip, to prevent coil loosing. 
· Press material wheel adjusting method: through change angle of press arm to change encoder feedback single to adjust speed.
· Press arm moving method: driven by air cylinder, can be opened or closed manually. 
· Limit wheel: located on the upper left & right of uncoiler(double limit wheel), unpowered, can be rotated along with any external force, for preventing coil of sideslip while uncoiling. 
· Limit wheel adjusting: two limit wheel can be discretionary adjusted, driven by hand wheel and gear, broadside of slide seat has a dividing rule for reference
· Limit wheel motion: outer limit wheel is doing open/close motion driven by air cylinder, internal limit wheel without open/close motion, just move along direction of coil width, outer limit wheel just can be operated by touch screen in manual version, while automatically working, it needs to be closed, then can meet safety requirement of before working.
· Surface process of the limit wheel: high frequency with parkerizing for rust protection.
· Material loop control: through inducting material loop to feedback signal by the infrared photoelectricity induction switch under press arm, to control uncoiler spindle of start/stop, to ensure enough buffer material loop between uncoiler and straightener.
2.Loading Car Part
· Function instruction: be used for moving coil to spindle of uncoiler smoothly, while uncoiling and entry the material head into straightener, it is used for supporting material head to let it entry into straightening roller smoothly, loading car is equipped with backup plate to prevent coil slipping off from loading car while moving little big distance, while hanging coil.
· Loading car moving method: hydraulic motor. 
· Loading car lifting method: hydraulic method(controlled by pressure retaining valve, stable and reliable).
· Moving method of backup plate for preventing slipping down:  by manual.
· Loading Car with Motorized Roller(for optional), easy for material head feed into straightener, prevent coil from loosening while loading coil and starting uncoiling specially for high strength high elasticity steel.

3.Straightener-Feeder part  
· Function instruction: use unbending principle to release material bending stress to straighten plate, then feed into press equipment according to set length and speed.
· Driven method: AC servo motor
· Straightening-feeding roller combination: straightening roller; assistant roller; feeding roller. 
· Straightening measure display method: dial display. 
· Straightning roller release method: pneumatic release. 
· Straightening measure adjusting method: manually by hand wheel (Electrically Adjust for optional)
· Straightening measure adjusting method: electrically adjust (for optional), no need rotate the hand wheel, more precise, with date storing function to store each group of material of straightening adjustment date which can save time for future using, convenient for operation. 
· Roller material: GCr15.
· Feeding line height adjusting method: electrically adjust, customized 
· Roller driven method: gear driving, all gears adopt tempering, carburization, high frequency quenching, precise grinding gear IT6 level precise standard. 
· Straightening-feeding rollers flip up system (for optional): upper straightening-feeding rollers can be lifted by hydraulic cylinder from one side, lifting angle can reach up to 30 degree. Through operating touch screen HMI or button of hand operating box to open straightening-feeding rollers, by this way, easy for clear rollers, to ensure material surface flatness and cleanliness. Adopts double oil cylinder to control. 
· The flip up system adopts one-key opening function, just press button on the operating panel then can open the upper straightening-feeding rollers head to clean rollers. While close straightening-feeding rollers, also adopts one-key closing function, which is very easy to operate. (picture for reference)
Hydraulic cutter(for cutting material head and end, for optional)
· Driven method: hydraulic, double oil cylinder. 
· Cutting method: hydraulic undercut.
Oil lubrication system (for optional)
· Oil lubrication system can single/double side painting oil uniformly, oil quantity can be adjusted, oil can be used circularly. Redundant oil can be oil returning system to return, via filter screen then through oil pump to supply oil mass.
Safety Fence (for optional)
· Safety Fence is equipped with safety interlocks
· 2 Doors on operator side
· 1 door on rear side for maintenance 
· Safety light curtain at coil loading area
1. Would you provide OEM/ODM service ?
Reply:We are providing OEM services for our competitors from European country and
Janpancompany.
Hong-Er Machine is a professional factory of high speed press machine,Automatic
feeder machine, uncoiler machine/decoiler machine, straightener machine, decoielr
straightener feeder, forming machine etc.
2.What certificates have you got?
Our company is verified by ISO9001, ISO14001.We got the certifications of CE for the
products including Feeder machine ,uncoiler machine , decoiler machine, high speed
press machine,forming machine etc.
3.What is the order process?
Inquiry for the machine-->offer with technical proposal and layout-->purchasing order
-->payment-->production-->delivery-->installation.
4.What is the delivery time for our machine?
Usually High speed press machine are 5-35 workdays.
Decoiler straightener feeder 3 in 1 machine are 15-65workdays.
Uncoiler straightener 2 in 1 machine are 1-25 workdays.
Feeder , uncoiler machine are 1-20 workdays.
Forming machine are 20-45 workdays.     
Sometime ,our machine are with stock.
5.What is the payment terms for one order?
30% down payment by T/T. 70% balance byT/T or L/C at sight.
6.What is the warranty time for the machine?
We will give one year warranty time to the customer.
7.What is the quality control in the company?
We inspect the machine according to ISO 9001 standard and test the machine before
delivery and we make our machine with CNC equipment in our factory. Our machines
are high quality ones.